And now for a bit of good news: strawberries. Nom nom nom
Well, my tomatoes might be a washout but the strawberries out the front are going really well. I have already eaten my first few; they taste fab even when they're not quite ripe.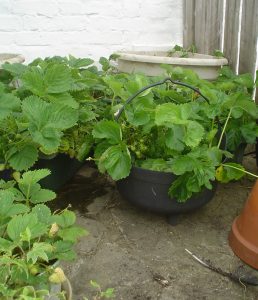 The big pot in the back of the pic is one of three runner bean containers that I potted up today. I didn't plant any runner bean seeds – it was one of my neighbours (who lives round the corner from us). He had more seedlings than he knew what to do with, and gave me some of his surplus. There are two big bean pots out the front, and one in the back. It's on the top step by the back door, because that's the only spot in our back garden where they stand an earthly against the monstrous horde of snails.