What's eating our redcurrants. Update #4
Well, the manure didn't work (see this post) – about ten days ago, I realised that once again, my redcurrants were being eaten alive. Last Sunday, I started the offensive against the culprit, namely these little critters (sawfly larvae):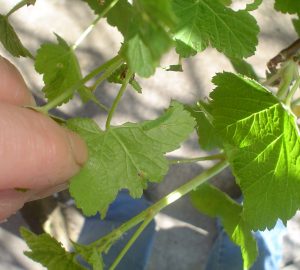 There were hundreds of them. It needed several hour-long sessions to kill the majority, which I achieved by donning a pair of rubber gloves and squishing them between my thumb and forefinger. They could mostly be found at the edges of the leaves, methodically chewing their way to the centre. I will venture out with the Marigolds again tomorrow morning.
On a brighter note, the strawberry containers in the front are doing well.